Apple has finally released its new operating system iOS 8 for its Apple iPhone and iPad users. Some of the features include third-party keyboards like Swype, Touch ID and new widgets for quick app alerts in the notification center.
Apple iOS 8 can be downloaded by navigating to the settings app on your Apple device (Settings > General > Software Update) or by plugging your device into iTunes.
iOS 8 is compatible with any iPhone beginning from 4S to the later version, the fifth generation iPod Touch, or any iPad released from the second generation. iOS 8 is the 8th major release of the iOS major operating system designed by Apple Inc and also the successor to the iOS 7. iOS 8 was unveiled at the Apple's Worldwide Developer Conference (WWDC) on June 2 and was made available to the public on 17th September. The release was made available for the existing devices just two days ahead of the launch of iPhone 6 and iPhone 6 Plus.
SEE ALSO: – Apple iPhone 6 and iPhone 6 Plus Finally Launched !!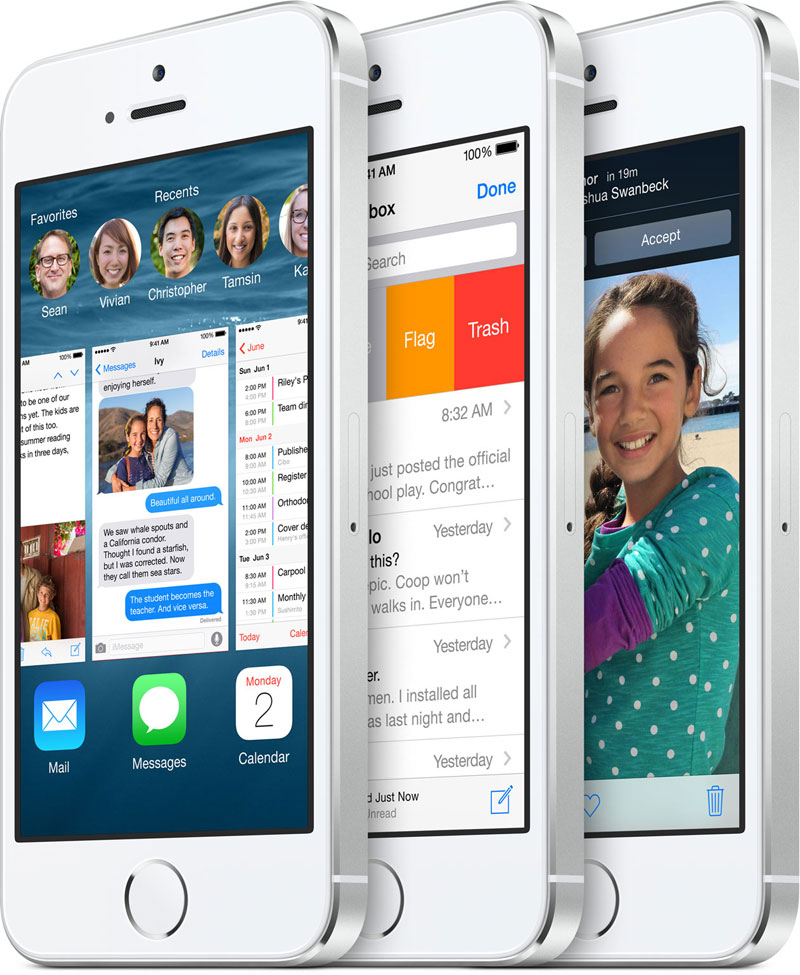 Apple has also made available a new app called Health and its corresponding framework named HealthKit with the release. And in this release, Siri was updated to support hands-free activation and music identification using Shazam. The new release has received major upgrades including notification center. The new interactive notifications allow the users to quickly responds to texts, e-mails and more right within the notification center without leaving the app they are currently using.
With this new release, Apple has also provided a new iCloud service called iCloud Drive which works almost similar to Dropbox. iCloud Photo Library which is a part of iCloud Drive has been built into a redesigned Photos app that makes your photos accessible to all of your devices. Apart from that it also has new editing tools to edit your photos as you wish and upload them to iCloud Drive.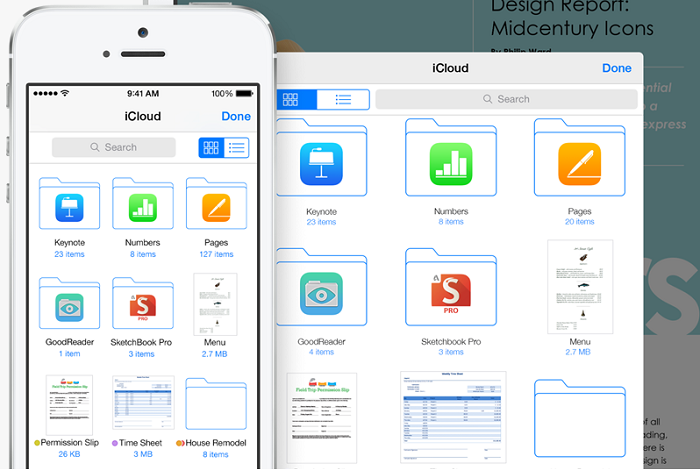 What's New In iOS 8?
PHOTOS
The photos app has been redesigned to add a new iCloud Photo Library. include more options to edit photos. Everything you click and capture is uploaded directly to the iCloud, allowing users to access their contents and photo libraries from any device. Uploading of photos and videos to iCloud seems to be the great move as it saves a huge amount of drive space on your device and it also serves a purpose of backup in case of any loss.
Plus the editing tools within the camera app have also been improved. With the Apple's new Smart Composition tools, it's easier to straighten the crooked pictures and also to create a perfect cropped image. Users can also change the lighting conditions by grouping brightness, contrast, exposure, highlights, shadows into one quick adjustment slider. And this can be done with the help of Smart Adjustment tools.
CAMERA
The all new time-lapse video mode in the camera app allows users to take photos at dynamically selected intervals and then creates video from a sequence of photos. The app has also got the new controls for exposure.
The camera app now features a shot timer, which allows users to set a delay of 3 or 10 seconds before actually clicking an image. The Panoramic mode is made available to the iPhone while ago, but with iOS 8 it is now made available for the iPad.
NOTIFICATION CENTER
The notification Center in iOS 8 is much improved as compared to the notification center in iOS 7 & 7.1. Users can now add and remove widgets in notification center with the help of "Edit" button and it also allows the rearrangement of notification widgets (sounds somewhat similar to the notification center in HTC One). With this new release, users are now able to reply to texts, e-mails and more directly from the notification center without leaving the app they are currently using.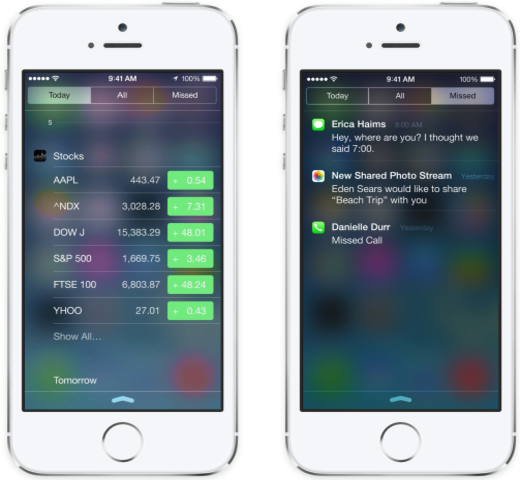 SEE ALSO: – HTC One (M7)  | The Ultimate Beast Review
iCLOUD DRIVE
iCloud Drive is Apple's file hosting service but this it has improved a lot. iCloud Drive lets users upload their presentations, spreadsheets, PDFs, images, videos or any other kind of documents to the iCloud. Users can start their work on one device and continue it on another device.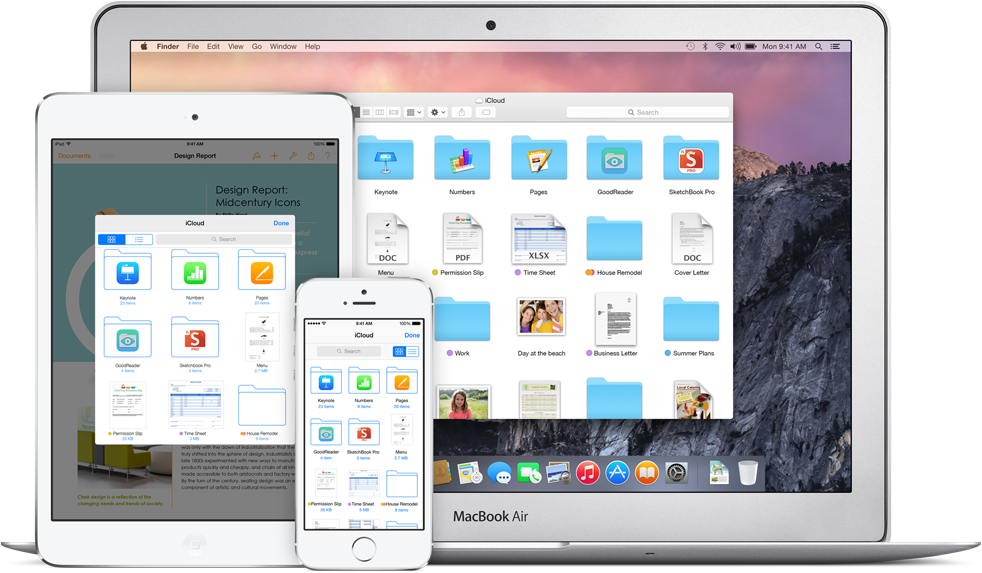 SIRI
If the feature is turned on, Saying "Hey Siri" will activate Siri whenever the device is plugged into a power source and the voice assistant also has integrated Shazam support. Activating Siri and saying "What's Playing" will identify what song is playing. It also supports voice streaming and purchasing content through is now made possible, and now supports 22 new languages.
SPOTLIGHT 
The spotlight is a system-wide desktop search feature of Apple OS X and iOS operating systems. It has been revamped in both iOS and OS X and now able to show suggestions from the Internet, Apple Store, iTunes, nearby locations and more when you search for a particular thing. Say for example, if you search for a particular movie the Spotlight will display relevant suggestions either from Internet or Apple Store.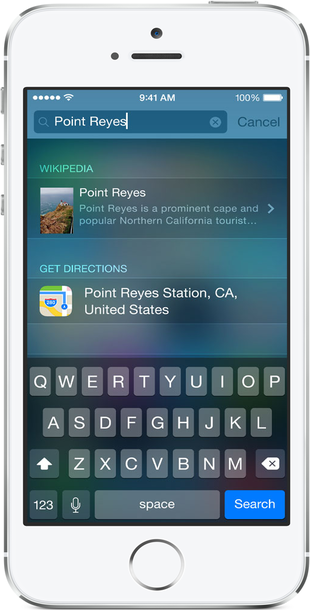 MESSAGES
The Messages app has gained much more functionality where users can send audio and video messages by holding down the record button. Users can also add or remove someone from a thread in group conversations, name a thread, share their locations via thread and can also activate" Do Not Disturb" mode to mute the group conversations. Users can also set messages to auto delete after 30 days or after a year.
HEALTH KIT
HealthKit is a service that allows developers to create software that integrates with the new Health application. This application allows users to track their oxygen, sleep level, steps and other health related data. Health app is designed to pull all of a user's health and fitness data into one access point creating an overview of person's current health.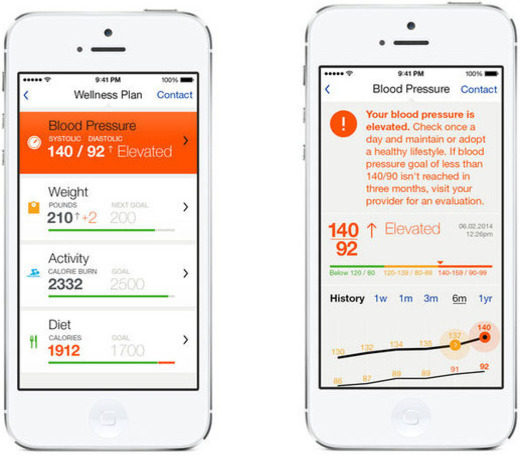 Compatibility
According to Apple, the full list of compatible iOS 8 devices includes:-
The iPhone 4S
The iPhone 5
The iPhone 5C
The iPhone 5S
The iPhone 6
The iPhone 6 Plus
The iPod Touch fifth generation
The iPad 2
The iPad with Retina Display
The iPad Air
The iPad Mini
The iPad Mini with Retina Display
However, there are still some devices that will miss out the iOS 8 update:
The iPhone 4 and older iPhones
The iPod Touch fourth generation
The original iPad